10 TIPS FOR TAKING AN ONLINE NIA CLASS
Nia has been a lifeline for me many times over the past 22 years, and the pandemic has taken that to another level. Nia positively engages your body, mind, emotions and spirit, and can offer a much needed respite from external stress and your own mind-chatter. I am deeply grateful to offer online Nia classes and connect people through movement with the invitation to stay on for a chat afterwards. Can't make it live… catch the replay available until the next day!
 New to Nia online?
These 10 tips will help you get the most out of your class.
Set up your tech.

 





If you can, turn off other devices that are using the WiFi or even better, use an ethernet cable to plug directly into your router to ensure a more stable and stronger connection.

Close all your other browsers/apps

Improve sound quality by using bluetooth headphones or speakers, or plug in computer speakers, like Logitech or connect to your tv screen

make sure your microphone is on MUTE (bottom left corner), especially if you come on late. I will unmute everybody at the end of class for our chat.

STOP VIDEO (bottom left corner) means you won't be seen, but will still see me during class. This can help if you are getting lag or freezing.

If there's a lag between the visual and audio, look away from the screen as often as you can, listen to the music and follow your own body's way

Safety and comfort come first. Find or claim a clear floor space where you can see whatever device you are using for the Zoom classes, and are able to move your whole body without running into furniture, walls or other people! Make sure the room is well ventilated and a comfortable temperature. Maybe you have a verandah or outside space, like Deb in the Adelaide Hills who dances on a garden deck under the camilla tree.

What's on the floor matters. Nia is designed to be done barefoot on a floor with some yield. While I have taught weekly classes for over 13 years on linoleum/concrete (Sherwood Neighbourhood Centre) and carpet/concrete (Pure Health clubs), it requires a higher level of attention to minimise impact on the bones and joints if the flooring doesn't "give".

If you don't have wooden floors, here are some ideas…
– Put a rug (or 2) over the floor to give you some padding,
– Create a dance area with yoga mats gaffer taped together (so there's no risk of tripping over edges) or even better with foam play-mats – $10 from KMart (4 mats 60x60x 1cm thick) or $19.50 per mat from Southern Cross Mats (100x100x 2 cm thick)
– Wear a soft sole shoe. Thick soled running shoes are not ideal for Nia as they stiffen the foot and change your natural movement. Shoes that have more "give" in the sole and allow your foot to articulate are better, but whatever you've got is better than sore joints from impact!

Life As Art. Nia's lifestyle practice for altering your perception and seeing the everyday as extraordinary, brings inspiration to your body and life. Most of us won't have an ideal or dedicated dance space. So what can you do to make your at home dance space more visually and energetically pleasing to you? Is there a meaningful object you could add, like Tracy from Adelaide who changed her dining room into her Nia space, and decorated it with treasured pieces from Bali; or Anthea in Brisbane who hung a crystal in the window and dances with the rainbows in her room as the sun shines through.

Do you need to declutter?

If your space feels busy or chaotic, can you remove some clutter or arrange things so that your nervous system feels calmer. Jeanette from Brisbane shared after her first online class, "I used to prepare for Nia by getting in the mindset while I drove to class where the space was already created for us to move. Now I'm motivated to do some clearing and cleaning to prepare my own space so I can move without distractions."


Use all your senses. Surround yourself with things you'll love to see, smell, hear and touch. I'm blessed to live where there's always birdsong and there have been a couple of times when butterflies or mating dragonflies have flown through the space while I'm teaching! In my space, I have plants in the corner, and a treasured painting gifted to me by the 2014 Ocean Shores White Belt grads. Before each class, I light candles and add different essential oils depending on what I need. I'm loving my Doterra Frankincense (to strengthen and invigorate the respiratory system); Balance blend (to feel grounded and centred); Citrus Bloom (to feel happy and invigorated); Lavender Peace (ahhhhh…)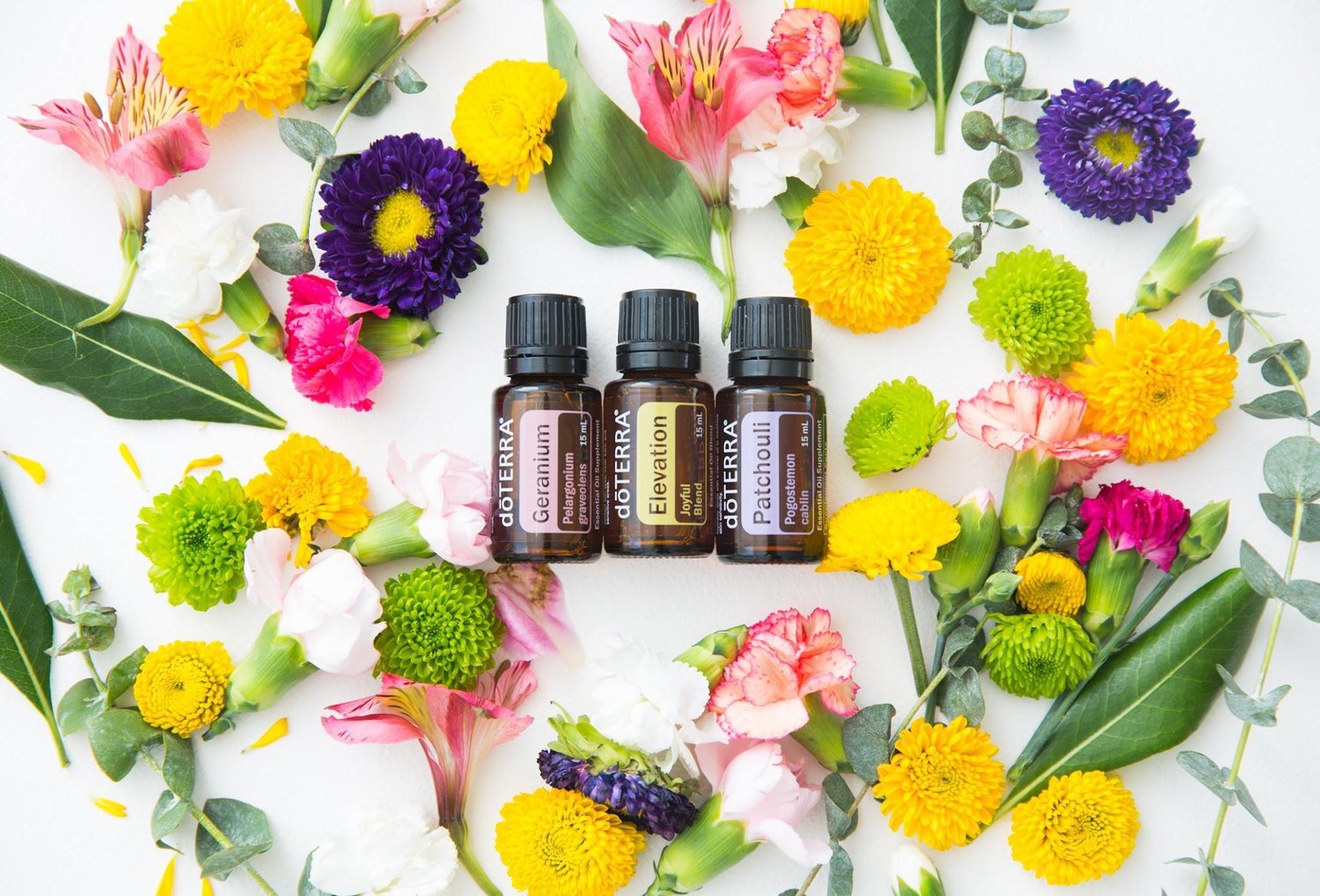 Science-based reasons to "Smell the Moment"… and mood enhancing aromatherapy.
A small 2015 study

done on women in Japan found that inhaled bergamot oil mixed with water vapour reduced feelings of anxiety and fatigue.

A small

2013 study

concluded that peppermint essential oil is effective for preventing fatigue and improving exercise performance.

A

2016 study

concluded that the inhalation of sweet orange (

Citrus sinensis

) and spearmint (

Mentha spicata

) essential oils could improve athletic performance.

A

2012 study

first showed the stimulatory effects of rosemary oil and how it impacts mood states as well as brain wave activity and the autonomic nervous system. A

2018 study

on school children confirmed that rosemary could help focus and memory, potentially boosting memorisation in school.
An older study in 2008 concluded that lemon oil reliably enhances positive mood.
Let me know if you'd like to order any Doterra oils. I'm happy to pass on wholesale prices.
7. Sound Advice. A big part of Nia's magic is the music. Having quality audio at your end can make such a difference to your experience, so if you can, connect your Zoom device to a Bluetooth or computer speaker set, or use a set of Bluetooth headphones. There are settings you might need to change in Zoom Preferences under "Audio" to optimise the connection and volume.
If you share your home with others, you might need to be mindful of who else is at home, though you never know… you might inspire your loved ones to join you! Theresa shared Nia with her partner Peter for the first time when they Zoomed on his iPhone, shared the screen and then cast it to their Smart TV. He loved it!
8. Creating the Space is a mindfulness practice we learn in our Nia trainings to eliminate internal distractions. We sit and invite stillness into our body, mind, emotions and spirit, waiting for the sensation of being centred in embodied presence to arise. A minute can make a big difference.
You might create your own ritual for removing distractions and preparing your space to dance, like lighting a candle, or set an intention as you enter the space, choosing a card for your daily practice, or smudging some sage to clear the energy. Maybe you'll get dressed up to dance… or maybe you'll stay in your PJs! Make choices that light up your life-force and help you slip into a sensation of sensuous sacred self-care.
9. Arrive early to do a sound check.  Set yourself up for success by linking in 5 minutes before class begins to set your volume and troubleshoot any problems. You'll step in feeling relaxed and ready rather than rushed and frustrated.
10. Dance like no one's watching. Magic happens when you listen to the music and move in harmony with your own body's guidance, feeling connected to a greater source of aliveness. Many students are sharing that they are experiencing a deepening of their awareness and becoming more in tune with their own body sensation and Joy. Dancing online at home, they are able to let go of getting it right and relish the liberation of literally dancing like no one's watching.
The best way to get the most out of Nia online is to do it!! Your FIRST WEEK is FREE.
Connect with Sophie if you have any concerns or questions.